CHEMBRA PEAK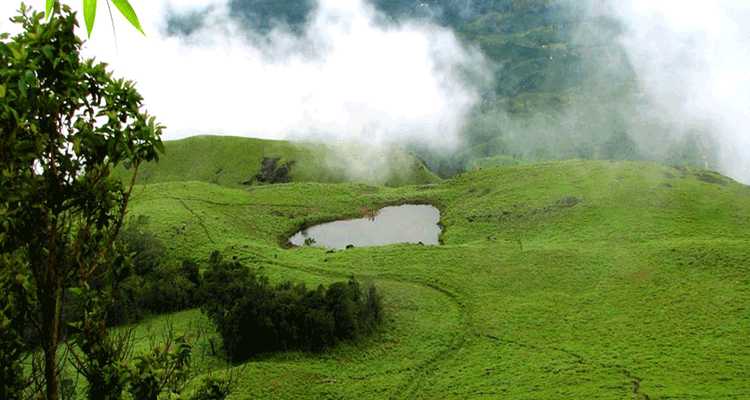 Chembra is the highest peak in Wayanad district and lives up to its billing of being a picturesque location. It has managed to maintain its pristine nature over the years.
Situated 2,100 m above sea level, this peak offers a breath-taking view of rare flora and fauna. One can come across many exotic species in these parts.
The route to the peak itself has a brilliant view along with a heart-shaped lake, waterfalls and lush greenery the whole way. It is a prime spot for trekking but prior permission needs to be taken before going on these treks. Guided tours are available and can help in enhancing the entire experience.
It is located 8 km south of Kalpetta and near the town of Meppadi. Trekking to Chembra Peak can be started from Meppadi town itself.
There is a forest office on the way to the starting point where you need to take permission. The Chembra Peak VSS, under the control of South Wayanad Forest Department provides permission as well as a guide.
The trekking to the highest point of Chembra Peak is not allowed now due to the wildlife activity on the trail. However, trekking to the heart-shaped lake, which is 1.5 km below the Chembra Peak is one of the top attractions.
The trek to the heart-shaped lake takes around two and a half hours. The trail starts from the tea plantations, enters thick forest and then passes through overgrown grassland.
Getting there
Nearest railway station: Kozhikode, about 79 km
Nearest airport: Calicut International Airport, about 92 km | Kannur International Airport, about 120 km
Wayanad is also famous for its ranches and natural life. Among the most beautiful regions of Kerala, Wayanad has a large number of options for its guests.
Soochipara Falls, Banasura Sagar Dam, Kuruva Island, Edakkal Caves, Chain Tree, Pookode Lake, Tholpetty Wildlife Sanctuary, The Bamboo Factory, Wayanad Wildlife Sanctuary, Phantom Rock, Chembra Peak, Neelimala View Point and many more.
Other Related Portals
Kerala Tourism | Kerala Tour Packages | Kerala Ayurveda Packages | Car Rental in Kochi |
Car Rental in Kannur | Wayanad Tour Packages | Trivandrum Car Rentals | India Tour Packages